A fixed louvre system suitable for Plant Rooms, Substations & other areas where permanent ventilation is required. This system also extends to sun & privacy screens.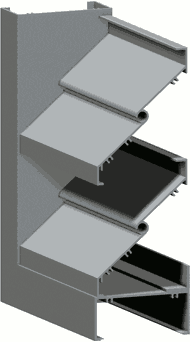 Types
42 mm framed / 39 mm (wide) sloped blade
100 mm framed / 96.5 mm (wide) sloped blade
100 mm framed / 96.5 mm (wide) stepped blade
150 mm framed / 145 mm (wide) sloped blade
Plant room louvre units with flanged perimeter frames
Sunscreen blades with vertical fins and custom design bracketing
Assorted "2 Stage" & "3 Stage" vertical louvre blade systems
Sliding louvre shutter system (incorporated within the 445 Series door)
Louvre screen with hidden mullion using snap support brackets
Privacy louvre blade, suitable for use within 150 mm frame
Assorted brackets allowing for continuous visible run of louvre blade.
Assorted elliptical blades available
Features
Extruded aluminium blades in various shapes and widths including a coat hanger type blade in a high quality finish (superior to rollformed or pressed metal blades)
Variable blade spacings
Limitations
Maximum recommended blade span is 1500 mm without stiffener (100 mm blade types)1
Not recommended where a specified water performance is required
To comply with the appropriate design wind load requirement
1 Indication only, will vary greatly dependent upon location, wind loads etc. Advise seeking confirmation from G.James' engineer.
Some dimensions detailed above may be nominal.
Due to continual product development, G.James reserves the right to change, delete or add any information, section profiles, construction details and specifications relating to this product without notice
Specify This
To correctly specify this product, copy and paste this text block into your project documentation.
All windows shall be G.James 415 Series compliant with AS2047, glazed in accordance with AS1288 and installed to the manufacturers recommendations and details. All surface finishing shall be in accordance with AS1231 (Anodising) and/or AS3715 (Powder Coating).