A high performance sliding door suitable for high-rise apartments, hotels, resorts and other applications where the structure is exposed to extreme weather conditions. This product has an impressive service record having been the chosen door in many of Australia's premier apartment buildings.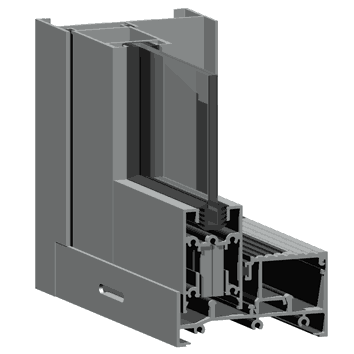 Types
Features - General
A unique 'slot rail' pressure equalisation system
A range of load-bearing, interlocking mullion configurations
A 'plant-on' track system creates the ability to construct almost limitless configurations
Hollow sash profiles that are quad-screwed for superior strength
Acoustic upgrades and double door system is available
Screening is possible to the inside utilising the 140 Series retro-fit system
Accommodates 5mm to 14mm glass (double glazing and I.G. units of up to 29mm can be used)
2 Track Door Features
XO, OXO & OXXO configurations possible
Optional low profile sill suitable for aged care
A colour matching head infill and sill threshold
Compatible with 450 & 475 Series framing
3 Track Door Features
XO, OXO, OXX & OXXXXO configurations possible
Colour matching head infill & sill thresholds
Compatible with 650 & 675 Series framing
4 Track Door Features
OXXX configuration possible
Colour matching head infill & sill thresholds
Hardware
A selection of narrow style, architectural locks can be fitted
A range of high precision, height adjustable, ball bearing roller assemblies
Extruded santoprene glazing gaskets and nylon pile weather seals
Limitations
Maximum panel size not to exceed 4.5 m², with a maximum sash size of 3000 mm (h) x 1500 mm (w)
To comply with the appropriate design wind load requirements and glazing standards
Some dimensions detailed above may be nominal.
Due to continual product development, G.James reserves the right to change, delete or add any information, section profiles, construction details and specifications relating to this product without notice
Specify This
To correctly specify this product, copy and paste this text block into your project documentation.
All windows shall be G.James 445 Series compliant with AS2047, glazed in accordance with AS1288 and installed to the manufacturers recommendations and details. All surface finishing shall be in accordance with AS1231 (Anodising) and/or AS3715 (Powder Coating).