A 100 mm × 50 mm framed heavy duty, hinged door system suitable for applications where superior weather and acoustic performance is required.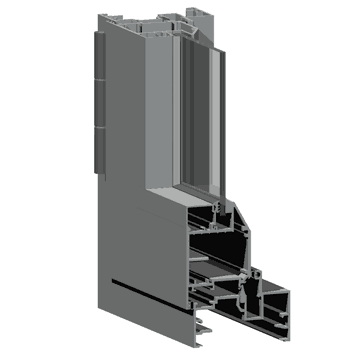 Types
Outwards opening, 600 Pascal water penetration rated.

Adaptor frame allows for insert door capability.
Heavy duty full framed system.

Inwards opening, 600 Pascal water penetration rated

Adaptor frame allows for insert door capability.
Full framed system.
Optional 'tilt-turn' function (single door configuration only).
Features
All types allow for single and double hinged door configurations
Three stage weather seal system – inward only
Compression gaskets are corner welded to create continuous weather and air seals
Multi-point locking system (both internal and external operating mechanism)
Accommodates 5mm to 13.52mm glass and up to 25mm I.G. units
Utilises 150 & 425 Series glazing beads and 475 Series sub-framing (fully framed options only)
Hardware
Aluminium corner stakes and extruded santoprene gaskets and weather seals
Limitations
Maximum door leafs

| Durability | Height | Width | |
| --- | --- | --- | --- |
| Standard Door | 2700mm | 1000mm | |
| Heavy Duty Door | 2300mm | 1000mm | opening out only |
Some dimensions detailed above may be nominal.
Due to continual product development, G.James reserves the right to change, delete or add any information, section profiles, construction details and specifications relating to this product without notice
Specify This
To correctly specify this product, copy and paste this text block into your project documentation.
All windows shall be G.James 478 Series compliant with AS2047, glazed in accordance with AS1288 and installed to the manufacturers recommendations and details. All surface finishing shall be in accordance with AS1231 (Anodising) and/or AS3715 (Powder Coating).