160 Series
Sliding & Fixed
A hybrid window combining a 65 mm perimeter frame with the sash components from the 131 Series sliding window. Possible applications include low-rise commercial & tilt-slab constructions, factories and apartment complexes & residential projects up to 300 Pa.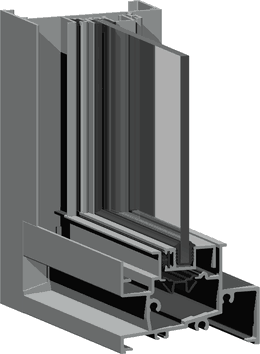 Types
XO, XOX and OXXO configurations (see Configurations).
Continuous jamb window walls (see Configurations).
General Features
300 Pa. water rating1.
Sashes are independent of the perimeter frame to minimise the transfer of building loads onto the glass.
Height adjustable rollers incorporate a large 16 mm diameter nylon tyre (smaller diameter wheels tend to skid, flat spot and eventually scour the paint from the track).
A rigid thermoplastic inlay fitted to the sill profile closes off the sill cavity from small debris etc. and provides a baffle for drainage.
A pivot action, self-latching handle located at the mullion (not the jamb) for easy access.
Crimsafe, barrier and fly screens can be accommodated within the perimeter frame. Fly screens can be installed or removed either externally or internally.
Limitations
Accommodates up to 6.76 mm glass.
Maximum weight: 25 kg/sash.
Maximum sash size: sliding sashes must not exceed 1433 mm (h) nor 1190 mm (w), ie. a sash to suit a 1500 mm × 2110 mm (h × w) XO window2.
Maximum window size is not to exceed 3010 mm in width2 regardless of configuration .
160 Series should not be used in the following situations

Buildings with more than three (3) levels.

Sheer face applications where there are no protective overhangs and/or the elevation has a high level of exposure to adverse weather conditions.
1Figure derived from specification, product has not been formally certified.
2 Subject to design wind pressure.
Some dimensions detailed above may be nominal.
Due to continual product development, G.James reserves the right to change, delete or add any information, section profiles, construction details and specifications relating to this product without notice
Specify This
To correctly specify this product, copy and paste this text block into your project documentation.
All windows shall be G.James 160 Series compliant with AS2047, glazed in accordance with AS1288 and installed to the manufacturers recommendations and details. All surface finishing shall be in accordance with AS1231 (Anodising) and/or AS3715 (Powder Coating).