The 050 Series is a 101.5 mm (or alternative 47.5 mm) wide framing system that accepts G.James 130 mm or Breezeway Altair 102 mm & 152 mm adjustable louvre galleries.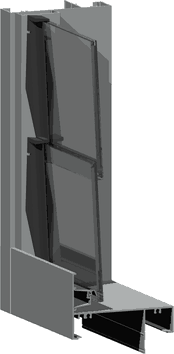 The unique qualities of a louvre window ensures this product achieves the maximum area of ventilation possible.
Louvre galleries accommodate 102, 130 or 152 mm glass, aluminium and/or timber blade options in single and multiple bay configurations.
Features
The 130 mm blade louvre has been tested at the NATA Accredited G.James Testing Laboratory to 200 Pa. water penetration rating. See Breezway Product Performance Warranty.
UV and corrosion resistant polypropylene louvre blade retaining clips.
Lever-action handle 'snap-locks' the louvre blades into their closed position. Altair louvres are also available with a handle locking bar and key-lock feature (to be nominated at time of order as it is not a retro-fit item).
Weather seals fitted at the head and sill.
Galleries designed for easy replacement of the blade in the event of damage.
Fly, barrier and Crimsafe screens are secured to the outside face of the perimeter frame. A screen build-out is required for all 48 mm frames and 152 mm louvres in a 101 mm frame. Plant-on screens (no build-out required) apply to 102 mm and 130 mm louvres fitted within a 101 mm frame. The same can be achieved with a 152 mm louvre however the louvre's rotation will be restricted due to contact with the screen.
475 Series sub-sills, compensating heads and couplers are compatible with the 101 mm frame. Likewise, the 131 Series accessories are adaptable with the 48mm frame. This compatibility allows louvre windows to be used in high lights, low lights and side panels.
Maximum widths apply to all blade types, see the G.James Residential Product Selector.
Some dimensions detailed above may be nominal.
Due to continual product development, G.James reserves the right to change, delete or add any information, section profiles, construction details and specifications relating to this product without notice
Specify This
To correctly specify this product, copy and paste this text block into your project documentation.
All windows shall be G.James 050 Series compliant with AS2047, glazed in accordance with AS1288 and installed to the manufacturers recommendations and details. All surface finishing shall be in accordance with AS1231 (Anodising) and/or AS3715 (Powder Coating).