150 Series
Strip Window System
150 Series
A 50 mm framed, beaded window system suitable for all types of commercial and high-rise buildings and strip window projects. This product has a proven history of high performance in such applications.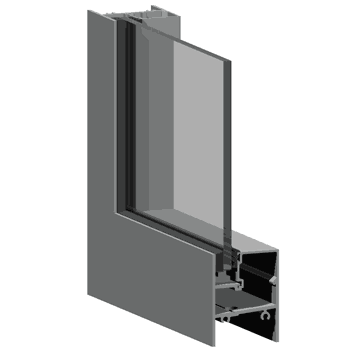 Types
50 mm & 100 mm framed top hung inswing (T.H.I.S.) window, 300 & 600 Pascal water penetration rated
Inserted inward opening casement sash, single and double sash configurations available
Awning window, 300 Pascal water penetration rated
Fixed window, 300 & 600 Pascal water penetration rated
Features
Heavy walled, hollow sash profiles
An inner jockey sash (double glazing) option where venetian blinds with concealed controls are required
The airspace between the sashes can be increased to achieve a higher degree of acoustic performance.
T.H.I.S. windows feature an integral, continuous top hinge to cope with larger sashes
Accommodates 5 mm – 13.52 mm glass (all window types) and up to 25 mm I.G. units
The inner sash can accommodate 5 mm - 10.38 mm glass
A wide range of coupling mullions to contend with various wind load requirements
An extensive range of accessories including sub-framing, mullion stiffeners, transoms, adaptors, sill boards and a range of glazing beads to suit various glass thicknesses
Hardware
Stainless steel hold-open supports (T.H.I.S. window) / stainless steel friction stays (awning window)
Assorted locks, handles, hinges and other componentry
Aluminium corner stakes
Extruded PVC and/or santoprene glazing gaskets & weather seals
Inward opening sash – Euro groove multi-point locking
Limitations
Top hung inswing window - 1800 mm × 1200 mm (h × w)
Awning window - 1500 mm × 1200 mm (h × w)
Inward opening casement – 1500 mm × 1200 mm (h × w)
To comply with the appropriate design wind load requirements & glazing standards
Some dimensions detailed above may be nominal.
Due to continual product development, G.James reserves the right to change, delete or add any information, section profiles, construction details and specifications relating to this product without notice
Specify This
To correctly specify this product, copy and paste this text block into your project documentation.
All windows shall be G.James 150 Series compliant with AS2047, glazed in accordance with AS1288 and installed to the manufacturers recommendations and details. All surface finishing shall be in accordance with AS1231 (Anodising) and/or AS3715 (Powder Coating).