676 Series
Fixed - Front, D/Glazed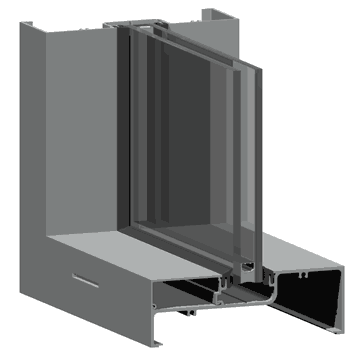 A wide pocket version of the 675 Series framing system for accommodating up to 29mm I.G. units.
Types
Fixed window and shopfront
Pivot, hinged and sliding doors (incorporating 475 Series door rails & stiles)
Awning/casement window (incorporating 048 & 265 Series sashes)
Features
Heavy walled profiles provide solid support for hinges, door closers etc.
A unique gasket retention system that firmly secures the glazing gasket into the pocket.
Internal or external glazing depending on the project and the required location of the removable glazing beads.
Accommodates I.G. units up to 29mm.
Accessories include sub-framing, a choice of mullion & transom configurations & adaptors (utilising 475 Series).
Hardware
Extruded PVC and/or santoprene glazing gaskets.
Assorted locks, closers, handles & other associated door furniture.
Limitations
Vertical spans for fixed glass not to exceed 3.5 metres (guide only).
Horizontal spans for fixed glass not to exceed 2.4 metres (guide only).
To comply with the appropriate design wind load requirements and glazing standards.
Some dimensions detailed above may be nominal.
Due to continual product development, G.James reserves the right to change, delete or add any information, section profiles, construction details and specifications relating to this product without notice
Specify This
To correctly specify this product, copy and paste this text block into your project documentation.
All windows shall be G.James 676 Series compliant with AS2047, glazed in accordance with AS1288 and installed to the manufacturers recommendations and details. All surface finishing shall be in accordance with AS1231 (Anodising) and/or AS3715 (Powder Coating).