850-500 Series
200mm Single Glazed System
A 200 mm (nominal) × 60 mm unitized panel curtain wall system suitable for low and high-rise applications.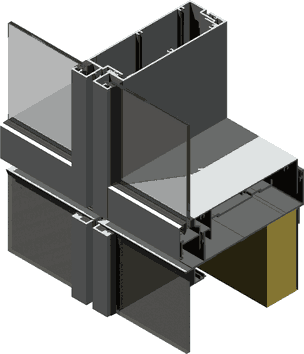 Types
Four (4) sided structurally (on-face) glazed with no expressed external aluminium
Four (4) sided captive glazed
Two (2) sided structurally (on-face) glazed with expressed mullions only
Two (2) sided captive glazed with expressed transoms only
600 Pascal water penetration rated
Features
Waterproofing characteristics based on pressure equalisation principles
Internal glazed wet seal for improved weatherproofing required on high-rise applications
Accommodates 5 mm – 10.38 mm glass (4 sided structurally glazed can accommodate thicker glass size)
Compatible with 475 and 478 series door systems and 875 series sub-framing
Hardware
Extruded external neoprene glazing gaskets
Limitations
Finish floor to finish floor spans not to exceed 4 m (guide only dependent upon number of and position of transoms).

Note: Stack joint positioning relative to slab level will dramatically affect structural capabilities of the system. Optimum position between 15% and 20% of overall span height up from fixing point.

To comply with the appropriate design wind load requirements and glazing standards
Some dimensions detailed above may be nominal.
Due to continual product development, G.James reserves the right to change, delete or add any information, section profiles, construction details and specifications relating to this product without notice
Specify This
To correctly specify this product, copy and paste this text block into your project documentation.
All windows shall be G.James 850-500 Series compliant with AS2047, glazed in accordance with AS1288 and installed to the manufacturers recommendations and details. All surface finishing shall be in accordance with AS1231 (Anodising) and/or AS3715 (Powder Coating).