The 450 Series Framing System is a popular alternative to the standard 475 Series centre pocket glazed system.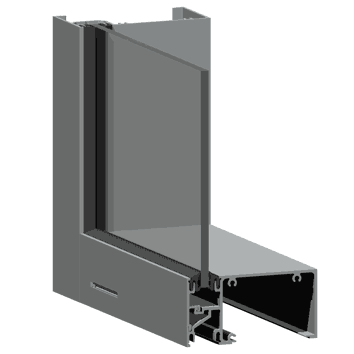 It allows a choice of either a "front" or "back" pocket glazing system, depending on the desired effect.
Designed around pressure equalisation principles*, this system is ideal for use in exposed conditions where a high degree of waterproofing is required.
Features
A 100 mm (nominal) x 50 mm framing system which achieves a 300 to 600 Pascal cyclic water penetration rating (Test Report #GJTL-0063 (30/04/99))
The option of glazing the system to the front for a shear (curtain) wall appearance or to the back for a fully exposed grid of mullions and transoms (shadow box effect)

Internal or external glazing with four possible glazing options available:

Front pocket glazed/internal bead.

Front pocket glazed/external bead.

Back pocket glazed/ internal bead.

Back pocket glazed/ external bead.

The particular option selected will be dependent on the project requirements and access, also see Limitations & Considerations.

Transom-to-jamb/mullion seal block isolates each fixed panel creating an independent unit for drainage and pressure equalisation purposes.
The ability to create curtain wall façades through the use of horizontal stack-joints and split mullions.
A coupling mullion configuration (450-044/045) that permits horizontal expansion and contraction.
A gasket (dry) glazed system comprising of santoprene or vinyl gaskets.

Acoustic rated configurations with Sound Transmission Classes (STC) ranging from 27 to 48

The majority of these configurations require jockey sashes – refer to the Test Reports for the specific construction required to achieve the nominated STC.

A purpose designed, concealed mullion stiffener (450-011) is available for high windload applications. Alternatively the 650-027/028 mullion configuration can be utilised.
Rolled (arched) frames possible up to a 1500 mm diameter (using 450-016).
Accommodates 6 mm to 11.52 mm glass. For Twin-Glaze units use the 451 Series.
Compatible with 048 Series, 150 Series & 265 Series infills and sashes, 475 Series hinged doors, infills, compensating channels, sub-sills and couplers.
Limitations
Simple span configurations, frame heights are not to exceed 3m – this is subject to windload requirements and mullion spacings.
A section analysis is required to determine mullion spacings and transom lengths.
In the absence of rebates or set-downs, the inclusion of 475 Series sub-sills is strongly recommended.
Prior to nominating or agreeing to a particular glazing combination, consideration must be given to the proper location of the beads in terms of long term access should the glass ever require replacement.
For awning and casement limitations refer to the 048 Series & 265 Series Product Briefs. As a guide, wherever conditions are likely to exceed 300 Pascal (water penetration) or the window is fully exposed the 265-015 sash must be used.
Pressure Equalisation
Generally the air pressure inside any closed structure is lower than the outside pressure. Consequently this differential creates "suction" forces which causes any water (that penetrates the glazing gasket) to be sucked to the interior of the building. This situation is eliminated through a series of slots or vents to the exterior of the frame that minimises the pressure differential allowing any water to drain to the outside under the normal forces of gravity.
Some dimensions detailed above may be nominal.
Due to continual product development, G.James reserves the right to change, delete or add any information, section profiles, construction details and specifications relating to this product without notice
Specify This
To correctly specify this product, copy and paste this text block into your project documentation.
All windows shall be G.James 450 Series compliant with AS2047, glazed in accordance with AS1288 and installed to the manufacturers recommendations and details. All surface finishing shall be in accordance with AS1231 (Anodising) and/or AS3715 (Powder Coating).