A high performance window system suitable for commercial, high-rise buildings and "exposed" residential applications.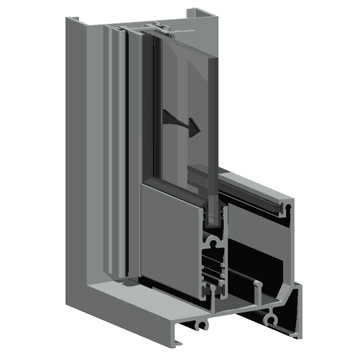 Types
65 mm framed, 400 Pascal window - XX, XO & OXXO configurations
65 mm & 100 mm framed, 600 Pa. "high-rise" window - XO & OXXO configurations
Features
A "pressure equalised" chamber is created behind two sliding panels to neutralise the forces that propel water to the inside (600 Pa. window only).
A pivot action, self-latching handle located at the jamb/s (XX or XO configurations) or centre mullion (OXXO configuration).
Additional rollers can be inserted into rail to accommodate larger sash panels.
Acoustic upgrades up to STC 33 available.
By-passing sash configuration (optional).
Flyscreens are fitted within the existing perimeter frame (XO configuration only, head adaptor required).
Accommodates 4 mm – 6.76 mm glass.
Extensive range of accessories including coupling adaptors (45°, 60° & 90°), sub-framing and various mullion combinations.
Compatible with 265 Series framing.
Hardware
Interlock seals at the head & sill for improved air infiltration (these seals also act as anti-lift blocks).
Black anodised aluminium hanh2e.
Roller comprises stainless steel bearing and solid delrin tyre (stainless steel tyre optional).
Frame corner gaskets comprising closed cell PVC foam.
Extruded PVC glazing channel and nylon pile weather seals.
Limitations
Maximum sash weight 12 kg/roller. Maximum sash height 1600 mm, with a maximum sash area of 1.6 m2 (based on two (2) rollers).
To comply with the appropriate design wind load requirements and glazing standards.
Some dimensions detailed above may be nominal.
Due to continual product development, G.James reserves the right to change, delete or add any information, section profiles, construction details and specifications relating to this product without notice
Specify This
To correctly specify this product, copy and paste this text block into your project documentation.
All windows shall be G.James 165 Series compliant with AS2047, glazed in accordance with AS1288 and installed to the manufacturers recommendations and details. All surface finishing shall be in accordance with AS1231 (Anodising) and/or AS3715 (Powder Coating).