A multi-purpose hinged door system suitable for residential applications.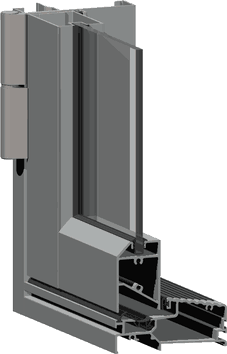 Types
Single & double door configurations, with or without glazing bars / midrail
Outward opening: 101 mm wide frame, rated to 150 Pa. water (standard) or 450 Pa. with sub-sill
Inward opening: 125 mm or 101 mm wide frame, water rated to 150 Pa. (the 125 mm frame accepts all types of screen doors without the need for an 'add-on' build-out).
Double glazed dedicated system for accommodating 20mm IG units
Wide rail option where a surface mounted closer is required
Features
Excellent weather resistance is achieved through the use of Q-lon (or santoprene) & mohair seals and other design elements introduced to eliminate gaps and produce a continuous perimeter seal.
An optional, multi-point Lever Compression Lock (LCL) which offers superior security, while incorporating chamfered deadbolts which act to lever the door leaf inwards compressing the perimeter seals (this feature contributes significantly to the weatherproofing qualities of the door).
A sloping external profile to the rail assists in reducing the build-up of dirt and dust.
Matching sidelights and hi-lights possible with the 125 mm frame.
101mm frame compatible with all 450 and 475 Series framing.
Can accommodate 4 mm up to 6.76 mm glass (standard) or 20 mm IG units (double glazed system).
Limitations
This product is not suitable for sheer face applications.
Maximum Sizes (Outer Frame):

Single Door: 2400mm (h) x 950mm (w)
Double Door: 2400mm (h) x 1810mm (w).
Some dimensions detailed above may be nominal.
Due to continual product development, G.James reserves the right to change, delete or add any information, section profiles, construction details and specifications relating to this product without notice
Specify This
To correctly specify this product, copy and paste this text block into your project documentation.
All windows shall be G.James 472 Series compliant with AS2047, glazed in accordance with AS1288 and installed to the manufacturers recommendations and details. All surface finishing shall be in accordance with AS1231 (Anodising) and/or AS3715 (Powder Coating).