265 Series
Awning & Fixed
A multi-purpose window & framing system suitable for a wide range of commercial and exposed residential applications.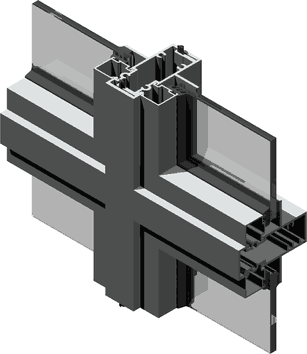 Types
There are two (2) separate systems based on 65 mm × 25 mm framing:
The 'standard' beaded system with a 300 Pascal water penetration rating. This system also accepts 048 & 265 Series awning/casement sashes
2. The high performance' pressure equalised system with a 600 Pascal+ water penetration rating (based on 265-015 sash with welded corner santoprene compression seals). This product has an excellent track record in high-rise buildings along coastal strips
Features
Sash profiles are hollow with a chamfered exterior. Corners are staked and mechanically crimped for superior strength
A continuous, double-seal system incorporating an external weather seal and internal air seal
Accommodates 4 mm - 10.38 mm glass (awning/casement sashes) & up to 21 mm I.G. units (fixed window)
Accessories including coupling mullions (45°, 60° & 90°) sub-framing, sill boards and stiffeners are available
Compatible with 165 Series framing and accessories
Hardware
Stainless steel friction stays fitted as standard (aluminium stays optional), with restrictor stays available upon request. Non-friction stays fitted where chainwinders are nominated
Die cast handle fasteners (keylock optional). Removable spanner fasteners for air conditioned buildings are available upon request
Quality chainwinder
Aluminium corner stakes
Extruded PVC and/or Santoprene glazing wedges/gaskets
Limitations
300 Pascal system incorporating 265-011 sash, maximum sash size 1200 mm (h) × 1000 mm (w)
600 Pascal system incorporating 265-015 sash, maximum sash size 1500 mm (h) × 1200 mm (w)
Recommended maximum sash size 1500 mm (h) × 1200 mm (w). A maximum sash size of 1800 mm (h) × 1200 mm (w) is possible with an integral, top-hook sash and single-hand, multi-point lock. Please contact your G.James representative to discuss all enquiries where requirements exceed our recommended maximum size.
To comply with the appropriate design wind load requirements and glazing standards
Some dimensions detailed above may be nominal.
Due to continual product development, G.James reserves the right to change, delete or add any information, section profiles, construction details and specifications relating to this product without notice
Specify This
To correctly specify this product, copy and paste this text block into your project documentation.
All windows shall be G.James 265 Series compliant with AS2047, glazed in accordance with AS1288 and installed to the manufacturers recommendations and details. All surface finishing shall be in accordance with AS1231 (Anodising) and/or AS3715 (Powder Coating).