A versatile 150 mm (nominal) × 50 mm flush pocket glazed framing system suitable for shopfront, low-rise curtain wall and general framing applications where spans exceed the limitations and/or design wind load requirements of the 450 Series.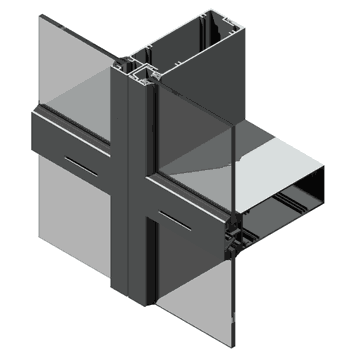 Types
Fixed window and shopfront
Awning / casement windows (incorporating 048 & 265 Series sashes)
Entry door combination units (incorporating a 475 Series door)
Features
Waterproofing characteristics based on pressure equalisation principles.
Internal or external (bead) glazing.
Capable of achieving horizontal stack joint and spilt mullion configurations suitable for use over large areas e.g. curtain wall facades.
A unique gasket retention system that firmly secures the glazing gasket into the pocket.
A transom-to-jamb seal block which isolates each fixed panel creating an independent unit for superior drainage.
Gutter transoms available for curtain wall applications.
Accommodates 5mm – 11.52mm glass.
Utilises 450 Series beads, 475 Series infills & 675 Series sub-framing.
Hardware
Extruded PVC and/or santoprene glazing gaskets
Limitations
Simple span configuration not to exceed 3.5 metres (guide only)
To comply with the appropriate design wind load requirements and glazing standards
Some dimensions detailed above may be nominal.
Due to continual product development, G.James reserves the right to change, delete or add any information, section profiles, construction details and specifications relating to this product without notice
Specify This
To correctly specify this product, copy and paste this text block into your project documentation.
All windows shall be G.James 650 Series compliant with AS2047, glazed in accordance with AS1288 and installed to the manufacturers recommendations and details. All surface finishing shall be in accordance with AS1231 (Anodising) and/or AS3715 (Powder Coating).