075 Series
Sliding & Fixed - D/Glazed
A 75mm (wide) dedicated "double glazed" window system suitable for residential and low-rise commercial applications.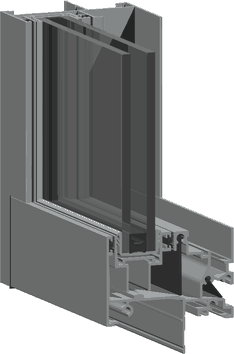 Types
XO & XOX sliding windows
Continuous jamb window walls
Fixed windows
Features
Product tested at the NATA Accredited G.James Testing Laboratory to 300 Pascal water.
Recessed sashes improve the window's thermal performance (by reducing the exposed surface area of aluminium) while also providing the window with clean sight lines .
Height adjustable, double bogey rollers with stainless steel outer carriage and rated to 22 kg per carriage.
A die cast, cam-action latch (located at the interlock stile) for convenient access and a "positive" locking action.
Excellent weather and water performance is achieved through a dual weather baffle (sill) system and the use of mohair seals.
Fly, security and Crimsafe screens can be fitted within the perimeter frame from either the inside or outside. The ability to fit from the interior is a major advantage for multi-level dwellings.
Compatible with 138 Series and 100mm framing systems using 138-014 with adaptor.
Limitations
Size limits apply to various wind load regions and building classifications as per Australian Standard AS2047-1999 and air-conditioning requirements. Contact your G.James representative for further information.
Accommodates 19mm IGUs only.
XO windows are not to exceed 1500 mm × 1810 mm (h × w).
XOX windows are not to exceed 1500 mm × 2410 mm (h × w).
Fixed panels are not to exceed 1.8m² in any height/width combination.
Some dimensions detailed above may be nominal.
Due to continual product development, G.James reserves the right to change, delete or add any information, section profiles, construction details and specifications relating to this product without notice
Specify This
To correctly specify this product, copy and paste this text block into your project documentation.
All windows shall be G.James 075 Series compliant with AS2047, glazed in accordance with AS1288 and installed to the manufacturers recommendations and details. All surface finishing shall be in accordance with AS1231 (Anodising) and/or AS3715 (Powder Coating).