A versatile sliding door system suitable for residential and low-to-medium rise building applications.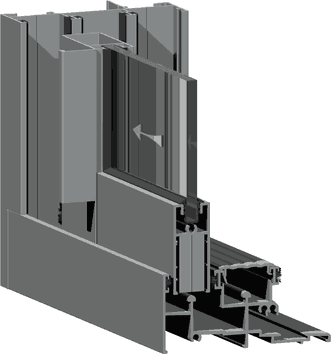 Types
102mm framed, three (3) track door system, possible configurations include XO, OXXO, XXO and OXXXXO. Available in both residential and commercial versions. Low profile sill option available (residential only).
168mm framed, five (5) track door system, used for such configurations as XXO, OXXXXO and XXXXO. Available in both residential and commercial versions.
90° external and internal corner door configurations. Available in both residential and commercial versions.
Face Fix option.
Features
Performance. Product tested at the NATA Accredited G.James Testing Laboratory: Residential verison - 300 Pascal water rated sill²; Commercial version - 600 Pa. XO configuration and 450 Pa. OXXO & XXO configurations.
Hollow sash profiles provide improved torsional strength and structural integrity.
A deep draining sill profile (245-002), corner gaskets (to all frame joints) and sealed interlocks combine to ensure excellent weather resistance.
Two mullion combinations cater for various wind loads and ensures compliance with AS2047.
Colour matched ribbed thresholds at the head and sill provide a neat, flush finish to these areas.
In-frame provision for fly, barrier or Crimsafe screens (3 track: XO, OXO & OXXO, and 5 track: XXO & OXXXXO configurations ONLY).
Compatible with 450 and 475 Series infills, couplers and sub-sills.
Some dimensions detailed above may be nominal.
Due to continual product development, G.James reserves the right to change, delete or add any information, section profiles, construction details and specifications relating to this product without notice
Specify This
To correctly specify this product, copy and paste this text block into your project documentation.
All windows shall be G.James 245 Series compliant with AS2047, glazed in accordance with AS1288 and installed to the manufacturers recommendations and details. All surface finishing shall be in accordance with AS1231 (Anodising) and/or AS3715 (Powder Coating).