453 Series
Fixed - T/Break, D/Glazed
The 453 Series Thermal Break Window System provides the ultimate in energy efficient aluminium framing.
By utilising the well-proven practice of bridging and strut insertion, the 453 Series ensures improved performance over standard one piece aluminium framing and achieves superior "whole of window" U-value results when combined with a Low E coated IGU.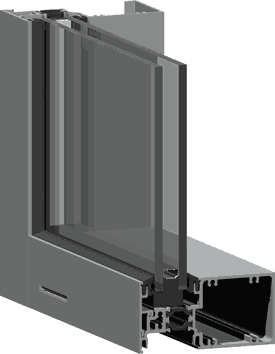 Features
Minimises temperature transfer through the aluminium frame.
Front pocket glazing for a "flush-face" external appearance.
Thermally broken sub-framing available.
Ideal for use in hot and cold climate zones and in building facades, shopfronts and other architectural applications.
Accommodates up to 24mm IG units.
Allows for alternate interior and exterior finishes/colours.
Avoids condensation build-up on the interior surface of the frame.
Why Thermal Break
Thermal-performance windows are fabricated from extrusions inserted with rigid, polyamide struts to bridge two separate aluminium profiles. These struts effectively isolate and restrict the temperature transfer from the outside to the inside and visa versa.
Thermal imaging demonstrates how a normal aluminium frame with an exterior temperature of -14.7°C results in an internal temperature transfer of approx. -1.3°C (see Figure 2.1). In contrast, Figure 2.2 shows the effectiveness of the 453 Series strut insert in preventing the conduction of the external cold (-14.6°C) through to the internal frame component which remains at a static temperature of around 7°C.
Some dimensions detailed above may be nominal.
Due to continual product development, G.James reserves the right to change, delete or add any information, section profiles, construction details and specifications relating to this product without notice
Specify This
To correctly specify this product, copy and paste this text block into your project documentation.
All windows shall be G.James 453 Series compliant with AS2047, glazed in accordance with AS1288 and installed to the manufacturers recommendations and details. All surface finishing shall be in accordance with AS1231 (Anodising) and/or AS3715 (Powder Coating).